Microsoft Outlook is a very good suite which lets you manage emails, set reminders, calendar events, and even see RSS feeds from your favorite websites. Within MS Outlook, you can do so many things and if you want to save something important, then you can do that too. Yes, Microsoft Outlook comes with a feature to save emails, calendar events, and notes to desktop as files. You can open any of the saved files anytime with just one click. It uses MSG file extension to save the calendar events, emails, and all the notes created by you. The MSG files can be used in another PC also using the Outlook desktop client. To save data from Outlook to your PC as MSG format files, you just have to drag-drop them to the desktop.
There are so many other applications like Outlook, but such applications don't offer a similar feature. That is why you can stick to Outlook until you get some better option. The good thing about Outlook is you can save an entire email on your PC as MSG as well as HTML file. Also, there is an archiving option in it which you can use. The process to save different items from Outlook to PC is explained below.
Save Outlook Emails as HTML and MSG files to PC
Saving emails from Microsoft Outlook to PC is very simple. Outlook lets you save emails as MSG and HTML files. Saving MSG files is very simple, but saving an email as HTML format file is not that straightforward. Also, while saving an email as HTML, there may be some elements missing.
To save an email as MSG, simply drag and drop it on the Desktop. Or else, you can drop it inside any folder you want.
To save an email as HTML file, you will have to open it first and use the File > Save as option. From the Save File dialog, save the email as HTML file to the desktop or any other place you like. Not only HTML, you can save it as an email template as well.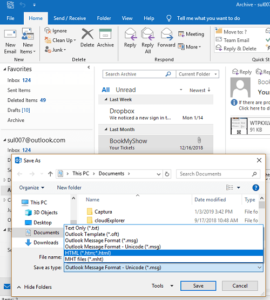 Save Microsoft Outlook Notes as Files
Very few people know the fact that Outlook comes with its built-in Sticky Notes feature. Using that feature, you can create and save notes in Outlook. This is a useful feature as you can use it to jot down some important aspects about an email or anything (like a phone number) that you want to quickly save while using Outlook. The notes are stored in the dedicated section and you can use different colors for those notes.
To save Notes to PC, just go to the notes section and then drag n drop that note to the desktop. It will immediately create an MSG file for that note. And if there are multiple notes there, you can select them and then save those notes as separate MSG files.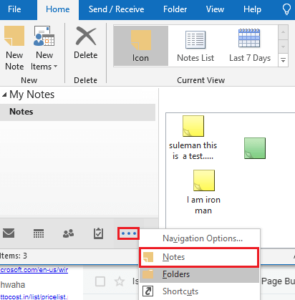 Saving Outlook Calendar Events as Files to Desktop
:
Like emails and notes, you can save Outlook calendar events to PC in a similar way. All the calendar events are stored in the Calendar section of Outlook and you can easily save them as MSG format files to the desktop, You can just drag n drop any event that you created in Outlook calendar to save it. It is as simple as that.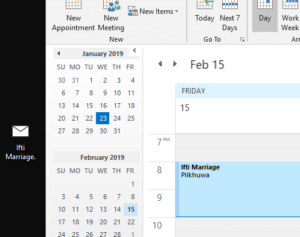 If you didn't know about saving Outlook emails, events, and other things then these tricks are gonna help you a lot. So, if you used to save the important emails and other things by copy-paste or take screenshots of those items, then you can simply ditch that method because Outlook already has you covered.