About The Event
Like an infectious virus, toxic behaviors can spread their venom like wildfire throughout organizations if left to smolder. You have to be able to spot the road signs before you can take action.
Getting rid of them isn't as easy as declaring "you're fired." Often clever chameleons, who "kiss up" and "knock down," they know how and when to disguise their infectiously bad natures.
They can flourish with a "perfect storm" brewing as toxic behaviors can be encouraged by individuals by those least suspected—people who enable them to get away with bad behavior. You'll discover how these "toxic protectors" and "toxic buffers" need to be considered a first line of action.
In his national study of over 400 individuals and latest book, Why I Don't Work Here Anymore, Dr. Kusy demonstrates how these behaviors reduce job satisfaction, build a hostile work setting, increase turnover, lower morale, and impact the bottom line. This webinar demonstrates what to do, how to do it, and why—not based on intuition but hard research data.
Traditional strategies for handling toxic personalities—reducing interactions with them, taking away their responsibilities, excluding them from important decision-making, reconfiguring the organizational structure, and giving them standard feedback rarely work. And while many leaders believe firing is the answer, Dr. Kusy shows how this is difficult to fire someone who is productive. Until now. This webinar demonstrates how calculating the cost of toxic people (even productive ones) is a first call to action before firing!
This quote from his research study demonstrates the impact these toxic individuals have on the rest of us: "The day this person left our company is an annual holiday!" Don't let this happen to you or anyone in your organization! This webinar demonstrates how to do something now!
Areas Covered
Hear the results from Dr. Kusy's extensive research study in which 94% of over 400 individuals said they worked with a toxic person in the past five years.
Understand why 87% of individuals working with a toxic person reported erosion of team performance.
Learn why 51% reported that they would likely leave because of a toxic individual.
Understand how this quote from Dr. Kusy's research study permeates our thinking and actions: "The day this person left our company is considered an annual holiday!"
Uncover op strategies for preventing toxic people from ever entering your organization.
Discover op strategies for dealing with them once they are there.
Learning Objectives
Reduce workplace drama.
Define toxic behaviors.
Identify "toxic protectors" and "toxic buffers" who enable toxic behaviors.
Tailor feedback to a toxic person based on whether the person is your peer, direct report, or boss.
Use strategies to prevent ever hiring a toxic person.
Use strategies to deal with them once they are there.
Calculate what financial individuals cost in your organization.
Improve team performance.
Have peace of mind and get a better night's sleep!
Who Should Attend
Leaders
HR professionals
Trainers
Organization development consultants
Coaches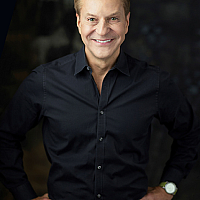 A corporate psychologist and 2005 Fulbright Scholar in Organization Development, Dr. Mitch Kusy is a professor in the PhD. Program, Graduate School of Leadership & Change, Antioch University. Mitch previously headed leadership and organization development at American Express and is now a renowned keynote speaker and consultant with hundreds of organizations nationally and internationally. Previous to his just-released book, Why I Don't Work Here Anymore: A Leader's Guide to Offset the Financial and Emotional Costs of Toxic Employees, Mitch co-authored five business books—one a best-seller. In 1998, he was named Minnesota Organization Development Practitioner of the Year. He resides in Minneapolis and Palm Springs, and may be contacted at mitchellkusy@gmail.com or via his website at www.mitchellkusy.com. He can be followed on LinkedIn (https://www.linkedin.com/in/dr-mitch-kusy/) and Facebook Business (www.facebook.com/mitchkusy/).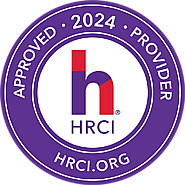 The use of this seal confirms that this activity has met HR Certification Institute's® (HRCI®) criteria for recertification credit pre-approval.
Credits: 1.0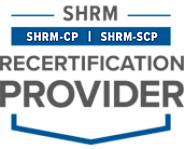 Compliance Prime is recognized by SHRM to offer Professional Development Credits (PDCs) for the SHRM-CPSM or SHRM-SCPSM. This program is valid for PDC(s) for the SHRM-CP or SHRM-SCP. For more information about certification or recertification, please visit www.shrmcertification.org
Credits: 1.0

All Access Membership
Let's get unlimited with compliance Prime All Access Membership Plans and Access Hundreds of Courses Each Year.


Why You Should Subscribe?
Unlimited Live and On-Demand Courses
Attend any of our live webinars, more than 100 every year and all previously recorded webinars in On-Demand format related to HR, Payroll, Affordable Housing, Construction Law Management, Microsoft Office and Performance Management Office.
Access Everywhere
Access any Live and On-Demand webinar from your computer, or mobile device.
Unlimited SHRM and HRCI Credits
All our HR related programs are pre-approved for HRCI and SHRM credits, for which you don't have to pay anything.
Free Access to Course Materials
Each program comes with Additional Course Materials, which you can download and read anytime
Group Discounts
If you have a group, we offer good discounts on group membership. Please contact us at help@complianceprime.com or call 888-527-3477 or chat with us.