About The Event
This training will provide much needed guidance for Employers and Managers to ensure they develop, communicate and enforce appropriate policies based on the regulations. This is one of the new marijuana regulations that has emerged since 2018 and Employers must update their policies asap or risk fines and penalties.
Areas Covered
What is a true Drug-Free Workplace Program?
How to create a Drug-Free Policy that meets Federal and Workers Compensation Guidelines
What is the best type of drug testing?
What components are necessary to create a Drug-Free Program
How does and Employer manage their Drug-Free Program with the new Legalized Marijuana guidelines
What can Employers do to keep control of their policies to maintain drug and alcohol restrictions
Is Drug Abuse and Alcoholism a disability requiring reasonable accommodation
How does Family Medical Leave Act (FMLA) integrate with drug abuse and alcoholism?
What are the components of a Drug-Free Program?
Is your state required to be compliant with Drug-Free Program?
Learning Objectives
What states have made changes in their regulations about medical or recreational Marijuana usage and the impact to the workplace policies preventing drug usage?
Does your state have a drug free workplace mandate?
Does your Company have a true Drug Free Workplace Program?
Learn if you are actually compliant with the Workers Comp requirements of a Drug Free Program or lose the 4-5% discount;
How will Employers mitigate drugfree workplaces with the new regulations?
What will Employers need to do immediately?
What about current drug testing screening policies?
What other background screenings are impacted by the Marijuana regulations?
What policies should be in place to comply with the new regulation?
What protections do Employers have in the workplace?
When does penalties and fines start?
What issues will HR professionals have to manage with the new regulations?
How will the federal authorities respond to the retail marijuana usage?
Is Marijuana a reasonable accommodation?
Bonus Handouts: All Attendees will receive a Drug-Free Workplace Policy
Who Should Attend
CEO
CFOs
Board of Directors
Supervisors/Manager
Leadership & Executives
Program Managers, Office Managers (with HR Roles)
HR Workplace Compliance Professionals (Officers, Directors, Managers and Specialists
HR Professionals
Office Managers and/or any professional on-boarding new hires
Senior HR Professionals
Operations Professionals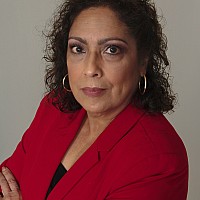 Margie Faulk, PHR, SHRM-CP is a senior level human resources professional with over 14 years of HR management and compliance experience. A former Compliance Officer for Federal Defense Contracting Industry, Margie has worked as an HR and Compliance advisor for major corporations and small businesses in the small, large, private, public and Non-profit sectors. Margie is bilingual (Spanish) fluent and Bi-cultural.
Margie's focus is on multi-state, national, state and local workplace compliance. Additionally, Margie is working on International compliance initiatives globally which includes workplace compliance in other countries like the UK, Canada, France, Brazil, China, Africa, Mexico and India, just to name a few.
Margie has created and presented seminars/webinars for many compliance institutes. These national training providers, offer compliance training to professionals, business owners and companies interested in having their company compliant with workplace and industry regulations.
Margie holds professional human resources certification (PHR) from the HR Certification Institution (HRCI) and SHRM-CP certification from Society for Human Resources Management. Margie has completed the Certified Compliance and Ethics Professional training and is a member of the Society of Corporate Compliance & Ethics (SCCE).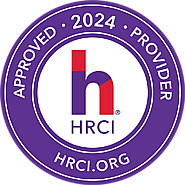 The use of this seal confirms that this activity has met HR Certification Institute's® (HRCI®) criteria for recertification credit pre-approval.
Credits: 1.5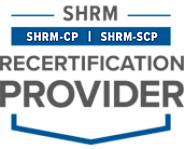 Compliance Prime is recognized by SHRM to offer Professional Development Credits (PDCs) for the SHRM-CPSM or SHRM-SCPSM. This program is valid for PDC(s) for the SHRM-CP or SHRM-SCP. For more information about certification or recertification, please visit www.shrmcertification.org
Credits: 1.5

All Access Membership
Let's get unlimited with compliance Prime All Access Membership Plans and Access Hundreds of Courses Each Year.


Why You Should Subscribe?
Unlimited Live and On-Demand Courses
Attend any of our live webinars, more than 100 every year and all previously recorded webinars in On-Demand format related to HR, Payroll, Affordable Housing, Construction Law Management, Microsoft Office and Performance Management Office.
Access Everywhere
Access any Live and On-Demand webinar from your computer, or mobile device.
Unlimited SHRM and HRCI Credits
All our HR related programs are pre-approved for HRCI and SHRM credits, for which you don't have to pay anything.
Free Access to Course Materials
Each program comes with Additional Course Materials, which you can download and read anytime
Group Discounts
If you have a group, we offer good discounts on group membership. Please contact us at help@complianceprime.com or call 888-527-3477 or chat with us.